I, Who Have Hands More Innocent
About a year before her passing, Vesna Parun published a summary of her oeuvre titled I, Who Have Hands More Innocent. In the foreword of this comprehensive, asynchronous selection, Vesna asserted: " …alongside this river of language, another one – silent, unmarked, and motherly – flows from the same source and in the same direction. This river is life itself. This is myself and my destiny as a cosmic enigma, ethnic equation, bio-spiritual chaos."
This textual 'patchwork' of a unique life – which unfolds on the stage from birth as an emotionally-packed, one-hour psychoanalytical séance – arose from the extensive oeuvre of Vesna Parun which, just as her life, was contained in the famous forty bags that were mostly unavailable to the (dis)interested scientific researchers, ruling structures, cultural institutions, readers and future generations even after her passing. The intimate traumas, in which we are reflected as contemporaries of common climate, same patriarchal umbrella, and mother tongue, are revealed in confessional, diary form, in first person narrative, through lesser-known autobiographic records of the poetess. When denuded in this manner, the life in this case represents a foundation to major works of poetry that do not age over generations, but rather inspire, enrich, purify and remedy time and time again.
"I, WHO HAVE HANDS MORE INNOCENT"
poetic monodrama
author of the drama text and performance:
Vesna Tominac Matačić
director:
Ivan Leo Lemo
producer:
Tatjana Aćimović
translation of the drama text into English:
Ellen Elias Bursać
music:
Ozren K. Glaser, Zvonimir Dusper
costume design:
Dies Gaudii
Mirjana Zagorec
stage design:
Vesna Režić and Ivan Leo Lemo
light design:
Miljenko Bengez
photography and video:
Dario Hacek
technical managers at guest performances:
Saša Fistrić, Tomislav Božić
website translator:
Mirta Jurilj
produced by:
Zagreb Actors' Atelier
in collaboration with &TD Theatre, Department of Culture of the Student Centre in Zagreb
Project was supported by
City of Zagreb
Ministry of Culture of the Republic of Croatia
ACKNOWLEDGEMENTS:
Mirko Parun, Tonko Maroević, Davor Rocco, Willem Miličević, Zrinka Šamija, Mario Gigović, Dies Gaudii, Printera Print Service, Evelin Hair Salon, Teenlifting.
A special note of gratitude to Dasha Čulić Nisula for permission to use her translations of two poems of Vesna Parun, Our Childhoods Are Responsible for Everything and You with Hands More Innocent, first published in Selected Poems of Vesna Parun (1985), Michigan: Green River Press, pp. 45-47, 75
IVAN LEO LEMO, director
Ivan Leo Lemo is a theatre director born in Split. He graduated from the Academy of Dramatic Art in Zagreb and was given the Dean's Award.
In the twenty years of professional activity in Croatian, Serbian, Macedonian, German and Greek theatres, he directed and wrote drama texts or dramatic adaptations for around 70 plays in all genres. In nearly all theatres in Croatia, he staged drama classics, contemporary drama texts, plays for children, operas and operettas, such as Trainspotting, Marlene Dietrich, La Traviata, Hasan Aga's Wife, Leda, A Streetcar Named Desire, The Memory of Water, Dangerous Liaisons, Parasites, The Importance of Being Earnest, Animal Farm, 1001 Nights, Who's Afraid of Virginia Woolf?, A Midsummer Night's Dream, etc. Many of these plays were awarded and were successfully performed at Croatian, regional and international festivals (Italy, USA, Venezuela, Bulgaria, Hungary, Moldova, Romania,…).
He gave lectures on Acting in Opera at the Academy of Arts in Osijek, and he currently gives lectures on the same subject at the Music Department of the University of Mostar. He directs synchronisations of animated films. He works as studio director at the Entertainment Program Department of Croatian Radiotelevision. He lives in Zagreb.
In the name of the spirit
"I think of Vesna as a shamaness. The one who connects worlds, both visible and invisible ones. Her words are therapy for our emotions, and summer wind in the sails of our soul. She lived in the eye of the tornado in which silence dwells, and scientifically described the destructive vortex around her with verse. Like Prospero, she perceived the elements of coarse and subtle matter, and selflessly shared her insights. Into rhythm, into rhyme, into an image, into a book she transposed eternity. Vesna is mother to all of us who use this language.
Using mother tongue, she told us who we were and where to go next.
Awareness is the symptom of soul in body, and Vesna was an expert diagnostician.
In times when every man is a fortress of secrets, a marionette of addiction and victim of tectonic shifts of own unconsciousness, Vesna presented her life on the platter of her life's oeuvre and demonstrated proper spring cleaning. She opened old cabinets, let the moths fly away and the sun disinfect the dusty karmic rags. She exposed herself to the views of others, often superficial ones; ever since she left this part of the planet and her own body, nobody has replaced her in any way or taken the cue from her example. This play humbly seeks to maintain the fire of Vesna's Olympian spirit. Whether we have succeeded in this may not be important. I feel that it is more important to inspire others in doing something akin to this, the laboratory and observatory attempts at insight into Vesna's work.
I would like to use this opportunity to make an appeal to all agents of our state structures, the president, the minister, the mayor and the city office principal to come personally and buy – in the generous sense of the word – Vesna's heritage, to dust it off (personally and literally), to examine it, classify it, sort it and exhibit it in any of the most beautiful buildings of our city, to serve as example to drunk children who listen to pop-folk and are unable to use the comma correctly when texting. This is a matter of life and death.
Oh, dear Vesna, the little girl of Zlarin, the student of Split, the tenant of Zagreb, the patient of Stubica, the sunray of Šolta on the memorial stone…
Vesna Parun. Such a beautiful name! The encounter of her name and surname is as fairy tale-like and mystical as from the Tales of Long Ago, another great soul of our language.
I picture Vesna as Meštrović's statue History of Croats. Not because of history, not because of Croatianism, but because of the archetypal motherhood and the harmony of proportions and the upright spine and the lotus position and the book of knowledge on her lap. Is there a sculptor who would possess an inspired hand and sensible heart to perpetuate her in stone, and to erect her in the heart of the capital of this Mediterranean, Mitteleuropean plot – broadcasted live in primetime – instead of that little man with a violent sabre? It is the poet who is supposed to pump blood through the veins of the 'nation', not the warrior, the Ban, the politician or the state clerk hanging by the cravat made in (read phonetically) Croatia.
Would the stone of Brač be an insult to Vesna, or would she interpret it – as humorous and wrapped in spirit as she was – as karmic alignment with the island that gave her the character for her romantic drama. The redemption of island from its quarry gut. The redemption of children before the mother we had put in an institution, whom we had forgotten after death, and whose legacy is rotting away in 40 bags. Forgive us, Vesna, please forgive us, mother.
Yes, I use pathos, and I enjoy pathos as well as poetry with more or less pathos, and I don't give a fuck (pardon me – a damn!) anymore for the dictate of irony, cynicism, sarcasm, parody, persiflage and other activities of the ego that produce growing noise and increasingly fatal mistrust and chaos.
We all know of the times upon us. We know of the values in force, and the consequences of this social and historical degradation. Naturally, the problem does not lie in the stage play of the economic downfall, but rather in the spiritual devolution. The materialists dictate the type and tempo of the dance of life (actually, of the funeral march), and poets are not being taken seriously.
Vesna Parun swam upstream of this process. She fought history with poetry. And was often the martyr in this fight. This play describes her cross. Everybody bears their cross, but Vesna's is also ours as she knew how to describe it so we can realise that we all bear the same one. And therefore we are brothers and sisters. Humanity. A pixel on the cosmic interface. Small potatoes.
Poetry will defeat history. Sooner or later.
As it was in the beginning, is now, and will be for ever. Amen.
And, until then… Stone.
Dear God, save Vesna on all stations of her return to you, and gaze mercifully upon Vesna's family, provide them with health and happiness."
Ivan Leo Lemo
TATJANA AĆIMOVIĆ, producer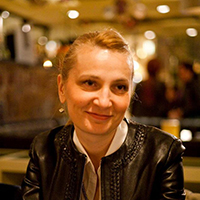 Tatjana Aćimović is a theatre and film producer, Professor at the Department of Production of the Zagreb Academy of Dramatic Art, Vice Dean of Business Affairs of the Academy, and art director of Children's Rights Festival.
She was born in Čapljina in 1966. She spent her twenties and early thirties in Paris, where she obtained a degree in Theatre Studies, reported on the cultural life of Paris for Radio 101, translated for theatre, and was engaged exclusively in theatre production; she spent her thirties primarily in film production, while in her forties she was active in higher education, cultural management, field of protection of rights of children and youth, theatre production, and collaborated on the formation of legal framework for film. Eight years ago, in collaboration with UNICEF and the Office for Children's Ombudsperson, she initiated the project Children's Rights Festival, which is especially close to her heart. She is active in the struggle to make cultural content accessible to all.
She translated "Kraljevo" by Miroslav Krleža, "Mrtva svadba" by Asja Srnec Todorović, and "Bure baruta" by Dejan Dukovski. She wrote two feature-length screenplays, "Moram spavat', anđele" and "Anka" based on the novel "Anka Brazilijanka" by Mato Lovrak.
In France, she worked in theatres Theatre National de Bretagne, Theatre des Amandiers Nanterre, Theatre Gerard Philippe de Saint Denis and Theatre du Chatelet, collaborated with theatre artists such as Stanislas Nordey, Valerie Lang, Christian Colin, Robert Cantarella, Bertand Bossard, Pierre Boulez etc., and was Head of Projects at the children's museum Musee en Herbe in Paris.
She considers her most important projects to-date to be the feature-length film "Moram spavat', anđele" and the feature-length documentary "Kralj" by Dejan Aćimović, "Grbavica" by Jasmila Žbanić, the international theatre project at the Theatre Gerard Philippe de Saint Denis titled "From Around the World" based on the concept by Valerie Lang, and Theatre play "I Who Have Hands More Innocent."
Most of all, she values liberty and responsibility, is focused on the efficiency of activities and actions, and believes that the work in cultural production is a calling that is exceptionally creative.
She seeks to continue to produce and manage projects for which she believes that they promote creativity and contribute to the development of civil society. She is a passionate fan of philosophy of media and communications, and hopes to find more time in the future for research and writing…
Tatjana Aćimović is the first woman representative of Croatia at the European Film Academy.
VESNA TOMINAC MATAČIĆ, actress
She obtained a degree in Acting at the Academy of Dramatic Arts in Zagreb, and has been working as independent artist for around twenty years.
She played an array of main and supporting roles in theatre, film, television and radio. She collaborated with many theatres in Croatia, including HNK Zagreb, HNK Osijek, INK Pula, DK Gavella, GD Histrioni, Ulysses Theatre, Teatar u gostima, Komorni teatar klasike, &TD Theatre, Žar ptica, ZKL,…
She was given the Croatian Theatre Award for the role of Tena in the eponymous production of HNK Osijek.
She appeared in the following films: Konjanik by B. Ivanda, Posebna vožnja by M. Puhlovski, Kravata by N. Ivanda, Zagorka by B. Čakić-Veselič, Djeca jeseni by G. Rukavina, Most na kraju svijeta by B. Ištvančić.
In foreign productions, she collaborated with directors F. Giraldi in La Frontiera, in which she played Melania, one of the main roles, and C. Nero in The Fever.
She starred in popular television shows: Zabranjena ljubav (Fremantle Productions), Hitna 94 (Odeon Productions), Najbolje godine and Kud puklo da puklo (Nova TV)… and has had numerous supporting roles in television.
She has had an array of main and supporting roles in the Drama Department of Croatian Radio. She often interprets texts from the literary and scientific fields on the Third Programme of Croatian Radio, particularly poetry…
She established own artistic organisation, Zagreb Actors' Atelier, then took over the production of the play Glembajevi by M. Krleža, directed by Ž. Senečić, and played the role of Baroness Castelli. The first authorial project following Glembajevi,  I, Who Have Hands More Innocent, was the result of research of the oeuvre and life of poetess Vesna Parun and has been awarded the Grand Prix at the International Monodrama Festival in Bitola in 2015. It is on the repertoire of the Edinburgh Festival Fringe in 2016.
She passionately advocates the stance that acting is authorship, and that one can reach the audience only by expressing authentic emotion.