Born on April 10, 1922 on the island of Zlarin, to mother Antica and father Ante. Completed primary school on the island of Vis. Attended secondary grammar school in Šibenik and Split, where she graduated in 1940.
She wrote her first poem Promaljeće in third grade in the town of Vis (published in Zagreb, in the periodical Anđeo čuvar).
Studied Romance Philology and Philosophy at the Faculty of Humanities and Social Sciences of the University of Zagreb.
Her first collection of poems Zore i vihori was published in the late spring of 1947 in Zagreb by the Croatian Society of Writers, followed by the collections Crna maslina (1955), Vidrama vjerna (1957), Ropstvo (1957)… She obtained the status of independent writer in 1947.
From 1962 until 1967 she occasionally lived in Bulgaria.
Apart from poetry, she also wrote drama texts and plays, fables, aphorisms, epigrams, essays, reviews, with an especially rich body of poetry for children. The popular characters she created, Mačak Džingiskan and Miki Trasi, also appeared in a musical. She published around one hundred titles in her lifetime.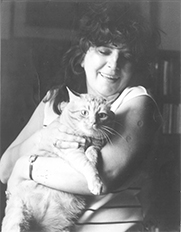 She translated poetry from Bulgarian, Slovenian, French, and German.
Her works were translated into Bulgarian, Czech, English, Esperanto, French, Italian, Hungarian, German, Polish, Russian, Slovakian, Slovenian, and Swedish.
She spent most of her life in Zagreb, while her final years were spent in the health resort Stubičke Toplice due to physical disability.
She was given the Vladimir Nazor Award: the annual award for literature in 1959, and lifetime achievement award in 1982. For the collection of sonnets Suze putuju she was awarded the Tin Ujević charter by the Croatian Society of Writers in 2003, as well as the plaque Dobrojutro more for permanent contribution to Croatian literature.
She was given her own Marble Star on the promenade Slatina in Opatija.
Corresponding member of the Croatian Academy of Sciences and Arts.
She continued to write and self-publish children's and satirical books while at the hospital.
She passed away in Stubičke Toplice on October 25, 2010.